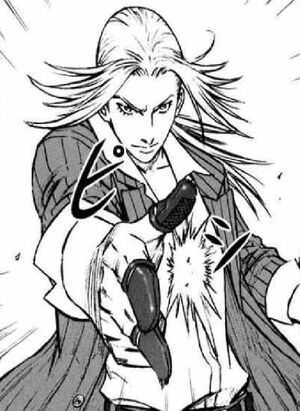 'Explosion' Hans or Dynamite Hans name is actually Hans Gilbenraat. A member of Gabriella and the Mermaid thirteen.
Appearance
Edit
Hans is tall with light blond hair that is usually seen in a pony tail, he has dark eyes and a fair complexion.
He is seen in a light colored suit with dark shoes and a choker, he also has finger gloves on his thumb, fore, and middle fingers, on both hands.
Personality
Edit
Hans in loyal to Isaac and Gabriella. He is ambitious and willing to kill to get what he wants.
He hates Nichol because he killed Green Eyes Abraham and Giant Gaccho and has tried to kill him on several occasions.
Weapons and Abilities
Edit
Abilities
Edit